The invasion of Ukraine and the events that have followed, especially in commodity markets, have triggered a downward revision in growth expectations amid an inflationary shock. It appears the reflation narrative has quickly shifted to stagflation as one of the most recognizable consumer-goods brands warned how the dark days of 1970s-style inflation could be imminent.
Following the far-hotter-than-expected CPI print last week, soaring to levels in February not seen since January 1982, along with Tuesday's Producer Prices last month hitting double-digits for the first time since Bloomberg data began, JAB Holding Company, a German conglomerate that includes investments in companies operating in the areas of consumer goods, forestry, coffee, luxury fashion, animal health, and fast food, among others, published an investor letter on Wednesday warning about continuing inflation.
JAB might know a thing or two about inflationary pressure better than anyone else because they're a consumer-centric investment firm with a portfolio of companies that includes Coty Inc., Panera Brands (Caribou Coffee Company, Panera Bread, Einstein Bros. Bagels), Keurig Green Mountain, and Krispy Kreme, Inc., among other brands.

"We believe we are now seeing a tectonic shift to a completely different macroeconomic and investment environment that most leaders and investors of today have not seen or experienced in their professional lives. We see the rise of inflation which, in our view, is not transitory as a major threat to the economy and the returns of global equities," Olivier Goudet, the chief executive officer of JAB, told investors in the letter.
He said, "We saw this phenomenon early on across our supply chain and inside our companies with rising input costs and salaries upon re-opening post-pandemic. Furthermore, major energy and labor shortages will drive longer-term inflation trends, accentuated by the serious geopolitical turmoil such as war and threats."

"The world where the cost of capital is zero is rapidly fading, and we believe the next decade will prove substantially more challenging from a return standpoint, but also from a credit and liquidity risk standpoint. Successful equity investments will be in resilient companies able to sustain their financing with quality growth," Goudet continued.

And warned: "We expect the inflation trend to continue, reaching levels not seen since the 1970s, fueled by structurally rising energy and commodity prices, as well as labor cost increases. We believe our resilient growth investment strategy is well suited for periods like these, which unfortunately tend to be forgotten during long bullish markets."

Jab's assets under management are $34 billion and could be poised for outperformance even in times of turmoil as the consumer-centric portfolio was designed with an "all-weather" approach.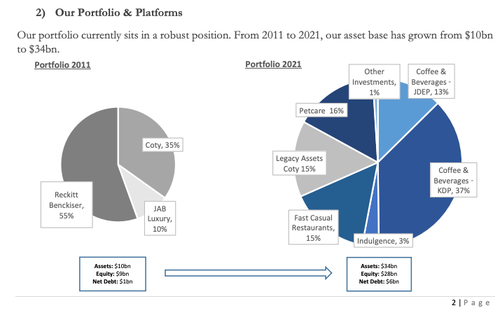 Confirming Goudet's warning is Goldman's Alex Fidanza, who recently told clients, "Global financial conditions have tightened materially, shifting the growth narrative from reflation to stagflation."
* * *
Here's Jab Holding's complete investment letter: